In 2018, Mincetur, the Ministry of Foreign Trade and Tourism (Ministerio de Comercio Exterior y Turismo in Spanish), issued a resolution to formalize adventure operators in Peru. Lima Bici, which has been existing since 2014, has become the first and only bike tour company that obtained this accreditation. It is a great accomplishment for the company, that has always been focusing on providing a qualitative and safe service to its customers.
Indeed, cycling in Lima is considered as adventure tourism and therefore must be regularized and formalized. The resolution that Mincetur has created aims to protect the cycling users, the other road users, and legislate the roads traffic and security. According to a study made by the organization Lima Como Vamos, 1,1% of Lima citizens are using bicycle as a transport in the recent years. As this city counts 10 million of inhabitants, it still represents around 100 000 persons. This tendency is rising every year, due to the increasing and difficult traffic in the capital, but also because people are realising the benefits of practicing sport, especially through bicycle. It is sometimes even quicker to go to work by bike rather than by public transports or car. In some districts, companies use also bikes for their delivery activities. As a consequence, it significantly increased the traffic on bike lanes lately. In addition, tourists are enjoying bikes every day of the year to discover the city through this means of transport. They can enjoy the view, practice some sport and discover the city differently.
For all of these different bike users, their safety is precarious considering their protections in comparison to cars or buses. Therefore, we are glad to count on safety measures such as the one Mincetur instituted, and proud to offer a secure experience to our customers.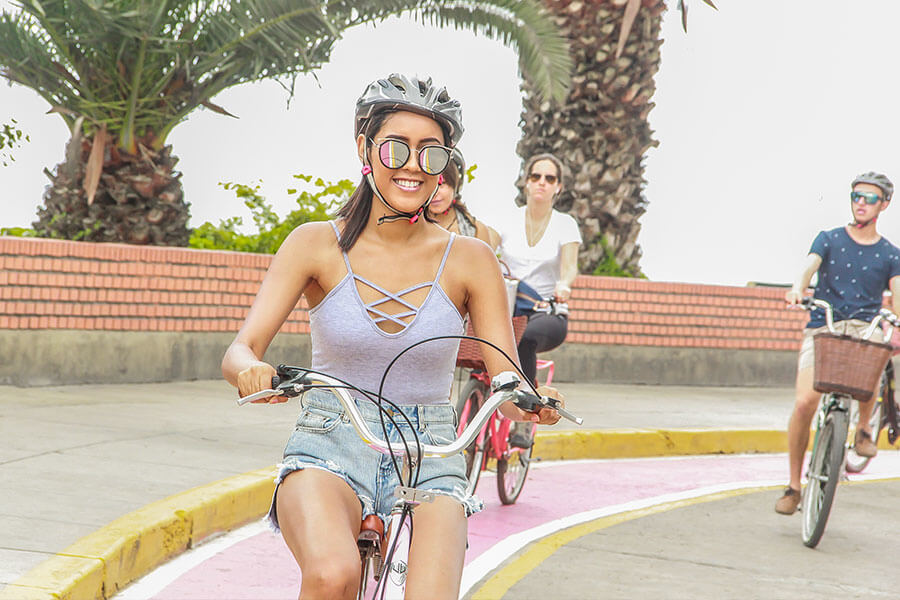 Even before this accreditation, Lima Bici has always taken care of the well-being and safety of its clients. The company counts on helmets with different sizes to fit to everybody that rents a bike with us. It can seem elementary, but not all of the bicycle rental companies are offering this basic and lifesaving protection. Lima Bici tours are always using safe roads, and sideways as often as possible. But the danger is not always coming from the bikers themselves. The other road users must also be considered. The helmet is therefore necessary to prevent basic accidents.
Regarding the bikes that Lima Bici rents, they are going through a process of maintenance and check-up. In addition, our company has partnerships with several professional repair shops. Moreover, everybody in our team knows how to do the basic repairs and verifications. Before renting a bike with us, we always check the general condition of the bikes, including of course the brakes and the pneumatic tires.
To complete our standards of security and to offer an additional safety service to our clients, we also looked at adding insurance options few years ago. Indeed, the objective was to make our customers enjoy even more their experience by feeling reassured about their safety during their journey with us. To do so, we auditioned several companies, and our choice was to select Pacifico Seguros. We chose them because they are a national and reliable partner and have proven efficiency in resolving every kind of transportation issue. As our activity was quite new on the market few years ago, they were able to offer us a tailored insurance that could fit to our needs and the one of the tourists that are experiencing the discovery of Lima with us.
To sum up, being certified by Mincetur therefore implies that we are officially recognized as a safe bike and tourism operator and that we are working under the regulations. If anything happens to our customers, they can legitimately resort to the ministry. It is a significant guarantee of quality, and legally reassuring for us and for our clients. It is also a proof that we are concerned about them and the regulation, but respectful of the environment we are working on too. Being part of the Lima touristic actors is important to us and we take our responsibilities seriously. We are always looking to provide the best possible services as much as being a sustainable and reliable contributor in the tourism and mobility sector in Lima.
By renting a bike with Lima Bici, you have the guarantee of a committed and caring operator that is constantly improving its practices to offer you the best and safest experience. Just enjoy, we take care of the rest! For more information about our tours, please come and visit our dedicated page.